Podcast: Play in new window | Download (Duration: 38:03 — 34.8MB)
Keys to Providing Great Legal Services through a Healthy and Successful Law Practice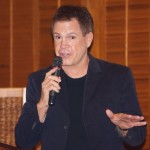 The practice of law is a business as well as a profession, but few lawyers are trained or equipped to be successful in all aspects of the practice. If we get it right we can help clients, lessen stress and become successful. Not getting it right can lead to multiple personal and professional problems.
Roger Lane is a business consultant who helps American lawyers and law firms get it right. In episode three of the Whole Lawyer podcast we'll explore with Roger how to achieve the essential elements of a successful law practice and the healthy and successful lifestyle that follows.
In this episode you will discover:
A diagnostic tool to help us design and run a successful law practice;
Why it is important to have a regular checkup for the business of our law practice, just like regular doctor visits;
How standard business characteristics of sales, marketing and finance apply to the practice of law;
The importance of smooth-running systems for lawyers and staffs in both multi-lawyer and solo practices;
The ownership requirement for law firms that holds many lawyers back;
Why lawyers are often unsuccessful in running a practice and what they can do to improve;
How some lawyers leave a dysfunctional firm to start their own firm but then just continue the dysfunction, and what they can do to fix things;
A solution to working too many hours;
The importance of understanding and educating all lawyers and staff on how they fit in to the firm's culture and practice, and the value of client service;
Why your staff is the key to your business and how they lead to the best marketing there is;
How the primary purpose of a law firm owner is not necessarily to be a great lawyer but rather a great businessperson that provides a culture and system to provide great legal services;
Why profits don't come from making money but rather from providing extraordinary service to clients;
How having advisers to help care of your law business is just as important as going to the doctor or even the mechanic for your car; and
How so many lawyers' business problems lead to professional and personal problems, and how proactively taking care of your business can lead to a healthy practice and fulfilled life.
For more information and for the diagnostic tool referenced in this interview go to www.rogerlane.com. Roger Lane can also be reached at 808-248-7804.